The workshop will take place at the Biblioteca Municipal de Vila do Porto, Santa Maria, Azores.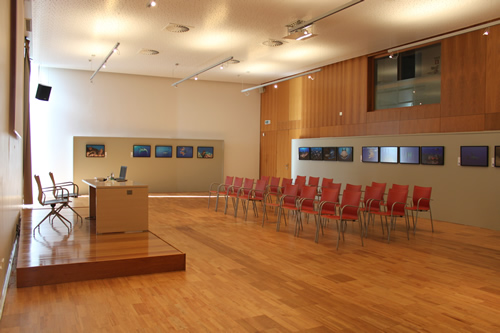 All activities are programmed in one room with audio and multimedia equipment and with capacity up to 60 people.
Accommodation Santa Maria:
We have a special rate for the Hotel Colombo. Participants should make their hotel bookings directly with Hotel Colombo, at Vila do Porto (Santa Maria). Hotel Ponta Colombo is located close to Vila do Porto, a 10-minute drive from the airport, the mountain. From the hotel to the venue is 5 minutes by car and about 30 minutes on foot.
We strongly recommend participants to make their reservations as early as possible for the Hotel Colombo since the room availability is limited. We also recommend you to check regularly the Restrictions and Mandatory Procedures for entry to the Azores w.r.t. COVID. (https://www.azoresairlines.pt/en/mandatory-procedures-for-entry-to-destinations)
Reservations with special rates can be made via reservas@colombo-hotel.com using the code provided in the email of the First announcement.
Cancellation Hotel Colombo:
Free cancellation until 60 days before date of arrival
Cancellations made after this date will be charged 100% of the total amount of the reservation. In No Show, guests will be charged 100% of the total amount of the reservation.