Hotel Information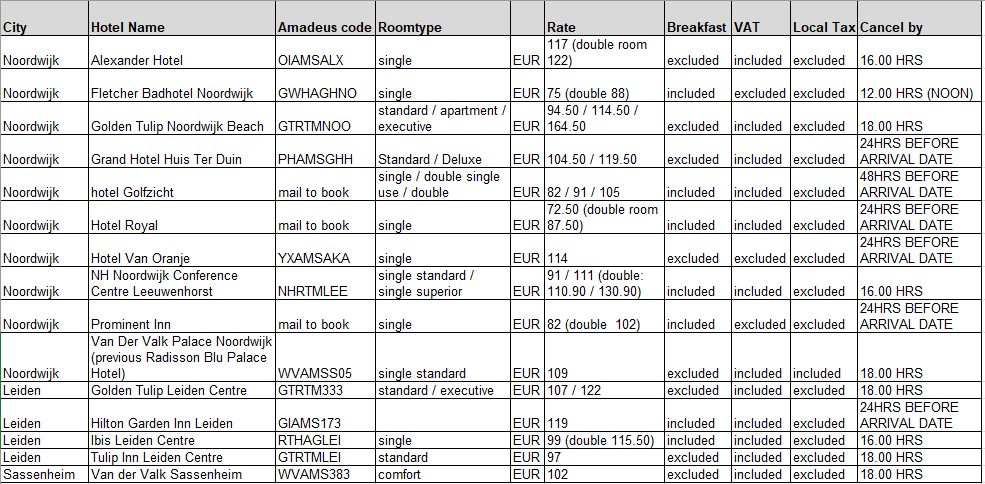 To make reservations, please send your email without delay to:
ESA.traveloffice@atpi.com
The travel office requires a valid credit card with expiry date to guarantee the room. A secure link will be emailed to you. You will pay directly at the hotel upon check out. A handling fee of EUR 16,94 will be charged to your card per room reservation. This fee is non refundable! If you reserve 3 persons for the same dates in the same hotel - the fee will be charged 3 times. If you need to change your reservation the travel office will charge their change fee of EUR 16.94. If you require a specific company address on their invoice do let them know at the time of booking. Once the invoice has been processed they are not able to change it for you.
Once you receive a official confirmation from the travel office your reservation is final. In case they cannot charge their fee they will contact you to check the credit card number. Room rates are for single occupancy! Some hotels have a surcharge for extra persons some offer the same rate.
The travel office cannot be held responsible for rate changes done by the hotels. Rates might vary and depending on the room type offered at the time of booking. Rates may differ during summer and winter season and during big events.